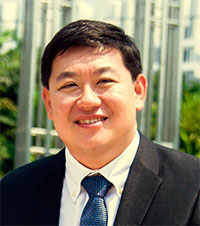 With a thirst for knowledge in Chinese Metaphysic, John Tan started learning & reading books on Feng, Bazi Destiny and Divination at a young age.  With his great passion in this Chinese Metaphysic theory, John attended many courses conducted by well-known masters from Singapore, Malaysia, Taiwan, Hong Kong and China. John truly believes in using Chinese Metaphysic to help people to improve their life and create harmony at home & offices
With more than 12 years of experience in Feng Shui & Divination study and with a positive attitude to share, John was engaged by Institute of Fengshui Bazi to conduct seminar & courses at their institution. John's courses were very well received by the participants as he has shown his willingness to share his knowledge without holding back. John Tan specialize in Divination technique and had conducted many courses such as Mei Hua Divination and Zi Wei Divination at SAFRA Toa Payoh.
John Tan is also a professional Feng Shui Consultant in Institute of Fengshui Bazi. He has conducted many Feng Shui Audit for Offices and Home.